Crema pasticcera is the Italian version of custard, although is much thicker. It's very versatile, it can be used on loads of desserts, or just eaten with a spoon 😉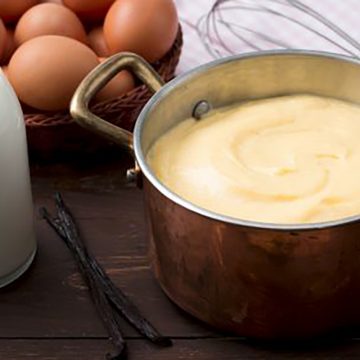 Crema Pasticcera
Crema pasticcera is the Italian version of custard, although is much thicker
Ingredients
4

Egg Yolks

140

g

Sugar

45

g

Corn or Rice Flour

500

ml

Jersey milk (or 400 ml Semi-skimmed and 100 ml Single Cream)

1

vanilla pod
Instructions
De-seed the vanilla pod, add the pod to the milk and heat until it just start boiling

Add the sugar to the egg yolks and beat until combined (this must be done quickly otherwise the sugar will absorb the liquid part of the yolks and it will make the protein part insoluble)

Add one ladle of the milk to the eggs mixture and combine (don't skip this or you'll end up with scrambled eggs)

Remove the vanilla pod from the milk and add the egg mixture to it

Cook, stirring continuously until you reach the consistency that you prefer

Now place the Crema Pasticcera in a bowl that you have placed over a bigger bowl filled with ice and water and whisk until it's cooled.
Enjoy it! It's truly glorious.